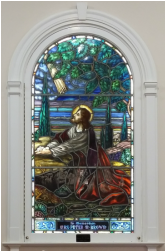 *PLEASE NOTE - Fun Things to do on a Snowday, originally scheduled for Sat. 2/20 at the Rutherford UCC, has been cancelled.*

We are now in the time of Lent. Lent is a period of 40 days that reminds of Jesus' trials in the wilderness. During this season, we prepare for Easter by acknowledging our own limitations, by reconciling, and by dedicating ourselves to a regular practice of prayer, charity, repentance, and reading scripture. Our goal is re-discovery, to push away the clutter in our lives and hear God's words:
"You are my own, whom I love. With you I am well-pleased.'

Thursday, February 18th - New Member Class, 6:00pm in the office
Sunday, February 21st - Short worship followed by church workday (includes lunch)
Sunday, February 28th - African-American heritage Sunday
Sunday, March 6th - Communion Sunday
Annual meeting follows worship at 12:00pm
Sunday, March 20th - Palm Sunday with Luncheon
Thursday, March 24th, 7:00pm - Maundy Thursday
Sunday, March 27th - Easter Sunday


See you soon!