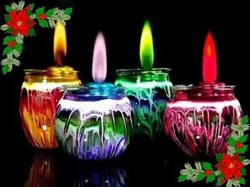 Merry Christmas! We wish you peace and joy as we prepare to celebrate the birth of Jesus Christ among us. Here at the Federated Church, we have several activities planned:

Sunday, December 6th, 10:00am - After a brief worship, we will decorate the church, trim the tree, and stay for lunch.
Tuesday, December 8th, 8:00pm - Blue Christmas. This is an opportunity for people facing hardship or loss to reflect and meditate on the deeper meaning of Christmas.
Sunday, December 13th, 10:00am - Third Sunday of Advent, "Love". Following worship we will share in a Christmas Luncheon to commemorate the life of Moti Keswani, husband of Dr. Satty Keswani.
Sunday, December 20th, 10:00am - Fourth Sunday of Advent, "Joy". Please bring a special holiday memento or Christmas heirloom to help decorate for this year's theme, 'Christmas Traditions'.

Thursday, December 24th, 8:00pm - Candlelight Christmas Eve!